John Marzulli, CR, CGR, CAPS, CKBR, CGP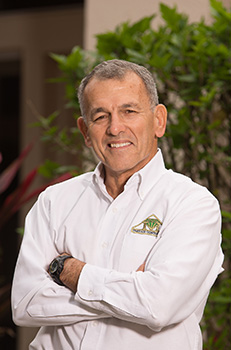 Since the company's incorporation in 1985, John Marzulli, Owner & President of Emerald Contractors Inc., has earned a respected reputation in his more than 47 years as a general contractor, custom home builder, developer, and remodeler.  A resident of Pinellas County since 1953, John has left his mark of excellence on countless homes and buildings throughout the Tampa Bay area.
Highly dedicated to the building and remodeling industry, John is one of only a handful of professionals in the United States who hold the multiple designations of Certified Class A General Contractor, Certified Remodeler (CR), Certified Kitchen & Bath Remodeler (CKBR), Certified Graduate Remodeler (CGR), Certified Aging in Place Specialist (CAPS) and Certified Green Professional (CGP) awarded by NARI and NAHB, Certified Water Restoration Technician with the IICRC and Florida Certified Mold Remediator (MRSR).  These designations and John's presence in the remodeling field have led to articles in various publications including Lowes for Pros, Tampa Bay Magazine and Professional Remodeler Magazine.
In addition to the many accreditations, awards, and honors, which you will find on the "About Us" tab/Company Profile on this website, John has many philanthropic interests.  He has been involved with the Tampa Bay Chapter of the National Association of the Remodeling Industry (NARI) for 24 years where he has served on the Board of Directors for 22 years, was a past president for two years, and currently serves as treasurer.  He is a founding member of Six Degrees Less than of Tampa Bay, which has been rebranded as Florida Economic Club.  His philanthropic activities include contributions of both time and proceeds to The Gulf Coast Chapter of the Paralyzed Veterans of America, Toys for Tots, and Navy Seal Foundation, among others.
However, John is more than awards and accreditations.  He is the proud father of 2 great and successful daughters, 2 great sons-in-law and 6 beautiful and talented grandchildren.  His other interests include martial arts, in which he holds black belts in two disciplines and was a former international competitor.  He is an open water swimmer and has participated in many multiple-mile open water swims.  He enjoys yoga and meditation, and is a certified Kundalini Yoga teacher with KRI institute and an all-around fitness enthusiast.
John's multiple accreditations, along with discipline, dedication, unwavering attention to detail, quality, and a keen sense of vision on a job, have made him the respected builder that he is today.  The numerous satisfied clients and repeat clients that he has worked with in the past four and a half decades continue to motivate John to achieve greater excellence.
Bookkeeper/Office Manager
Diane joined our team in July of 2017, and brings a little over 40 years of accounting and managerial experience.  She is a New Jersey native who relocated to Florida in 1984.  She and her husband are the proud parents of three beautiful girls, and grandparents to seven.  Diane is an Excel and QuickBooks expert and has created many of the templates and systems we use for scheduling, lead tracking, project and office management.  She is well-respected in her field and has become a valuable asset to our company.
Mike comes from a family that grew up in the construction trades.  He has a vast background of experience in field craft as well as construction management.  He grew up working with, and learned from, his father, who is one of the finest stucco/plaster/carpentry tradesmen in the business.  He also worked with a general contractor in the Midwest, where he received an abundance of knowledge in construction/management. ,Mike owned his own successful stucco and plaster company for many years, which is where I met him.
Mike was looking for a more stable economic environment when his father suggested I talk with him, and I hired him immediately as our Lead Carpenter.  I got to witness his people skills as well as his construction skills.  Our clients all rave about him and our trade contractors and suppliers respect him.  It was not long after that I promoted him to Project Manager, and he has flourished in that role.  You will enjoy working with Mike.
Our Valued Trade Contractor and Supplier Base
We could not do anything without our trade sub-contractors and suppliers.  They are the backbone of our company.  Over the last 30 years, we have been able to vet out only the most qualified and professional tradesmen and suppliers to work with us.  They hold the values of ethics, quality, timeliness and professionalism high on their list.  Each one is a consummate professional and runs his/her business in a highly professional manner.  Many of them have been with us since our inception.  Most have been with us for over 10 years.  We are blessed to have them on our team.